How To Make Weed Yogurt
I love a good hearty breakfast with eggs, bacon – the works! But lately? I've wanted something different so I discovered how to make weed yogurt!
Nothing beats farm-fresh fuel, and we have a ton of fantastic breakfast recipes to share with you but the same old really gets tiresome, so I experimented and found something fantastic to share with you.
To make this recipe, you're going to need to make Cannabis Milk first, and you can use this for so many other edible recipes – it won't be a waste!
The recipe below guides you on how to make Cannabis Milk at home, and if you already know just skip to the next part.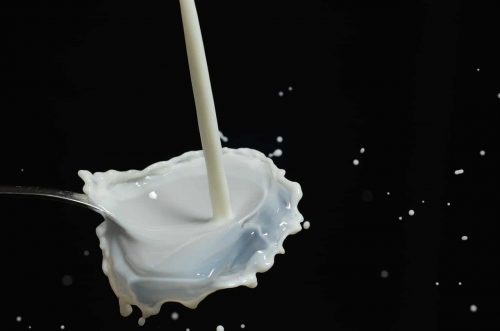 Calories: 200kcal
THC: 700mg THC
Ingredients
Instructions
Decarboxylate your weed by spreading your cannabis evenly on an oven tray And coat with aluminum foil.

Place in the oven on 240F/115C for 40 minutes, and then let it cool.

Grind your cannabis or chop it fine

Place 4 cups of whole milk in a pan on low heat. Add cannabis and let simmer on low heat for 60/90 minutes without it ever coming to a boil.

Strain through a cheesecloth

Let it cool
Nutrition
Calories: 200kcal | Fat: 20g
Is Weed Yogurt Easy To Make?
I guess I always thought that yogurt was super hard to make, and that's why I never tried it – but really?
This recipe is simple and once you've got it down, you can enjoy better breakfasts and snack time too!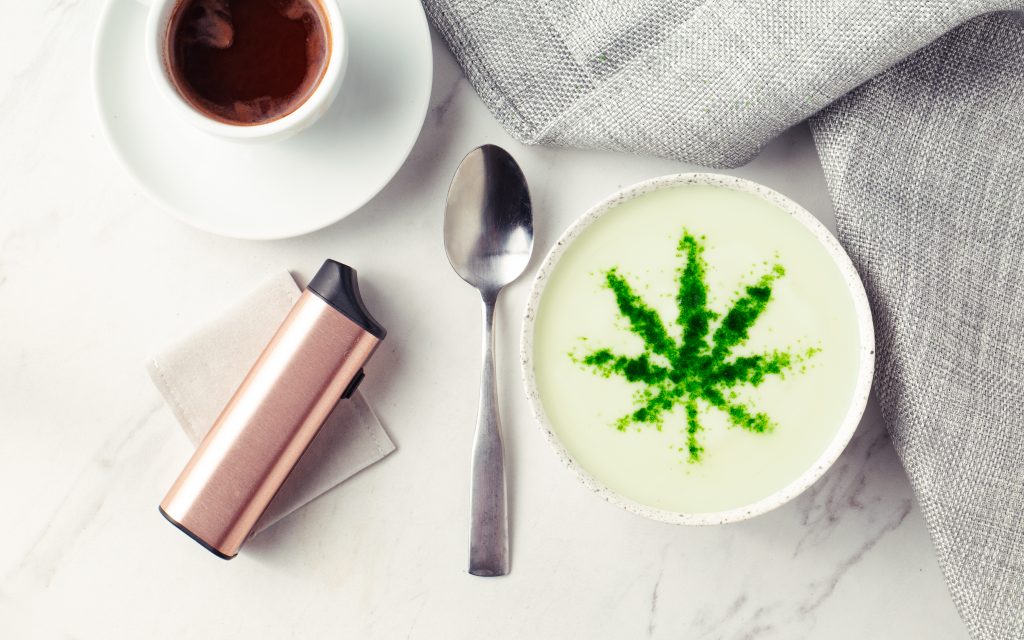 I also love adding Maple Syrup to yogurt, and fresh berries too.
If I'm feeling a little feisty, I'll even throw in chocolate cacao nibs, and some sliced almonds for some extra protein, and then I throw a splash of Cannabis Milk into my Cannabis coffee too!
The Recipe – Easy & Simple!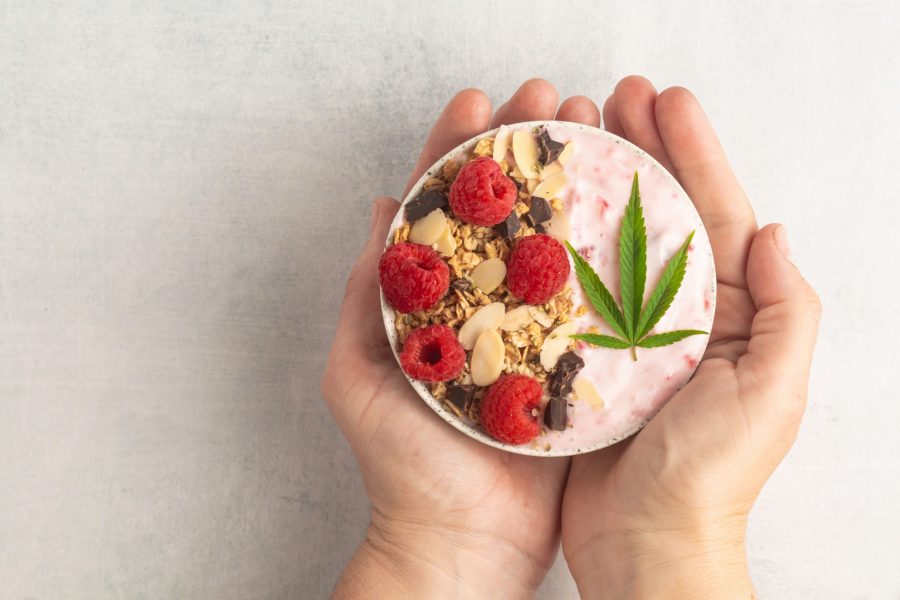 Author: Steph Van De Ven
Cost: 20-25
Equipment
Non-Aluminum Pot

Mixing Bowls – large

Saran Wrap/Plastic Wrap

Dish Towel

Thermometre

Whisk
Ingredients
4

cups

Cannabis Milk

3/4

cups

Plain Yogurt

Icelandic or Greek – nice and thick.

4

cups

1/2 and 1/2 cream

2

cups

Heavy whipping cream
Instructions
Measure your plain yogurt and leave to relax at room temperature while you prepare the rest:

Combine cannabis milk and half-and-half cream in a large, heavy, non-aluminum pot. Heat over low and strir constantly until it comes to a boil. Remove from heat IMMEDIATELY and pour into a bowl. Add in whipping cream.

Allow to cool to 112 degrees F using your thermometre. Once it's at the right temp, slowly pour warm milk into the yogurt you were saving at room temperature, whisking constantly.

Return the yogurt-milk mixture to the bowl and stir well. Cover bowl with plastic wrap.

Wrap the bowl in a large towel so that it covers it completely.

Let it stand out at room temperature for 8 hours or until its firm and set.

You can refrigerate yogurt for a few hours to chill and then serve when ready!

Add fresh berries, sliced almonds, and some Canadian Maple Syrup if desired.
If you're starting to cook with Cannabis, or you are a seasoned Canna-Chef, check out more recipes here.
For great ideas, pairings and cooking products, check out these products.