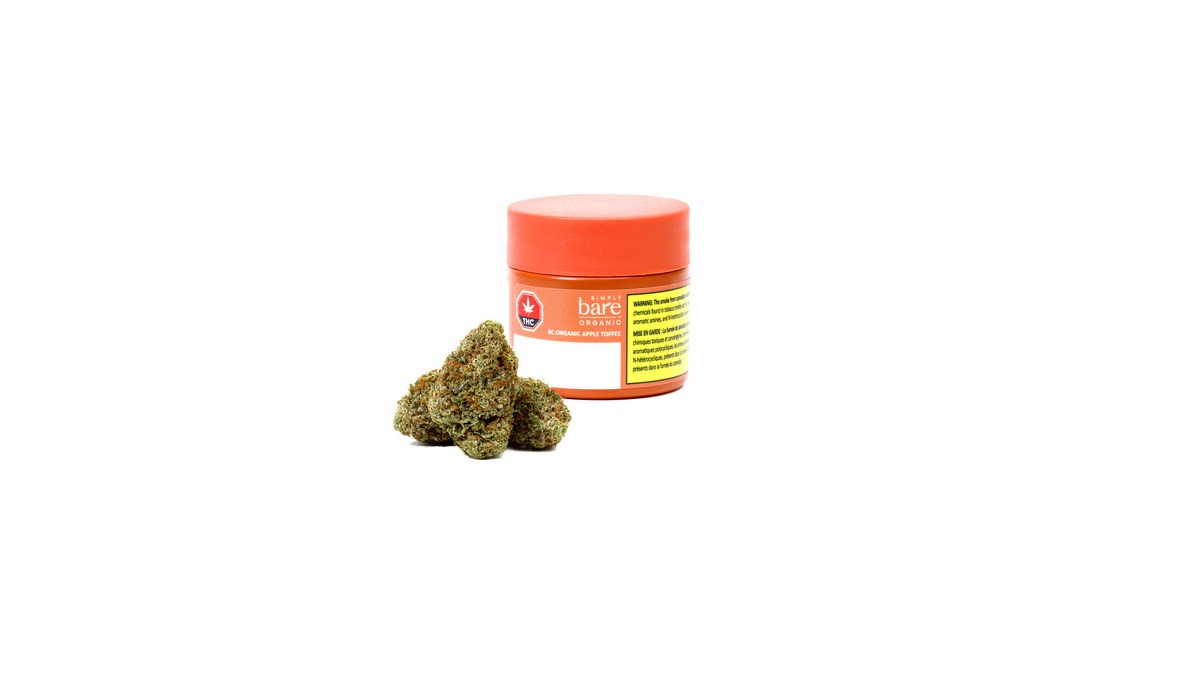 VANCOUVER, B.C. – Simply Bare, a premium Canadian organic certified cannabis brand, has debuted BC Organic Apple Toffee, a hand-crafted, super-premium dried flower now available in many cannabis stores across Canada. The first cannabis brand of Rubicon Organic, Inc. (TSXV:ROMJ), Simply Bare delivers flavourful, artisanal cannabis brought to life with natural sunlight, organic living soil, 14 day hang-drying and careful hand manicuring.
The indica-leaning BC Organic Apple Toffee cultivar evokes hints of its Crème Brulée and Sour Apple lineage and is organic certified by the Fraser Valley Organic Producers Association (FVOPA). Rich in terpenes, the sensational cultivar boasts gorgeous, fluffy flowers and a heady combination of pungent, gassy kush and fruity, sweet aromas. The crystally buds are hand-manicured and cold-cured to perfection, then sealed in a glass jar to preserve freshness. Pre-rolls are delicately milled, rolled with 100 percent organic hemp papers, and finished by hand.
Available for purchase in 3.5 gram quantities as well as 3 x 0.5 gram pre-rolls, Simply BareTM BC Organic Apple Toffee can be purchased now at cannabis stores across British Columbia and Ontario. Retailers across Alberta and Saskatchewan will have this popular cultivar available in store this fall.
Rubicon Organics launched Simply BareTM in 2019 with a simple desire to provide Canadians with the best premium, hand-crafted cannabis available. Based in the fertile Fraser Valley in Delta, B.C, Simply BareTM is cultivated in one of Canada's first organic certified greenhouses.
Simply BareTM ensures nothing is compromised in bringing nature's true cannabis to consumers. The plant is provided everything it needs to fully express itself, from natural sunlight to organic living soil carefully composed of a proprietary mix of inputs like Douglas fir bark, kelp and worm castings from the Sunshine Coast. After 14 days of hang-drying and careful hand manicuring to preserve trichomes, a two-week cold-cure provides maximum smoothness and outstanding taste.
"We are thrilled to introduce BC Organic Apple Toffee, and our Simply BareTM brand, to Canadians seeking an exceptional cannabis experience," said Jesse McConnell, CEO of Rubicon Organics. "Our focus is to grow phenomenal cannabis with flavours and aromas which are unmatched. BC Organic Apple Toffee is another terpene-rich cultivar from our extensive genetic library and a perfect addition for the fall. The attention to detail in every step of cultivation combined with our sustainable growing philosophies means all our strains contain no additives, preservatives or unnecessary extras – just clean, aromatic and naturally produced cannabis that's full of flavour."
Simply BareTM is quickly becoming a fan favourite among Canadians with a swiftly growing collection of six super-premium 'BC Organic' cultivars, including Blue Dream, Sour Cookies, SFV OG Kush, Creek Congo, Charlotte CBD and Apple Toffee. For more information, visit simplybare.com
---
About Simply Bare:
Simply Bare, the first cannabis brand by Rubicon Organics, is motivated by a simple desire to provide Canadians with the best cannabis available. FVOPA organic certified, grown under full-spectrum sunlight in living soil, and nourished with fresh rainwater, crops are hang-dried for 14 days, carefully hand manicured and cold cured before reaching the customer, with every effort made to protect the environment throughout the growing, harvesting and distribution process. The brand is cultivated in one of Canada's first certified-organic greenhouses. For more information, visit simplybare.com.
About Rubicon Organics Inc.:
Rubicon Organics Inc. is becoming the global brand leader in organic cannabis products. Through its wholly-ownedsubsidiary Rubicon Holdings Corp, a licensed producer, the Company cultivates and sells organic certified, sustainably grown, super-premium cannabis from its state-of-the-art hybrid greenhouse located in Delta, BC, Canada. Rubicon Organics is focused on achieving industry-leading profitability through the development of brands and cannabis 2.0 products, including its flagship super-premium brand Simply BareTM Organic. For more, visit rubiconorganics.com.